Hello! Does it finally feel like fall here in Metro Detroit, or what? Leaves are changing, the air is getting crisp at night, and all I want is a warm cider mill donut (or 2, or 3, okay just give me the entire bag). October is almost synonymous with family photos here in Michigan, and I totally get it. It's a beautiful time of year, not to mention the perfect time to update your photos for holiday cards. Yeay Fall!
But, can we talk a little bit about the months that follow? You know...the next 6 months when many of us just want to hibernate indoors? Michigan winters can be brutal, but this doesn't mean that family photos have to be put on the back burner!! In fact, I absolutely love shooting family photos on-location, in clients' homes. Besides Michigan's uncooperative weather, there are several of other reasons why I love in-home family photography.
(Pssst....I'll be offering an awesome discount on in-home family sessions this winter! Make sure you read all the way to the end of this post to see how you can get in on the action.)
Relaxed Setting
Where else are you more relaxed than when you are at home? I totally notice a difference when I show up for an in-home family session versus when I'm meeting a family at a park or other public location. Everyone just seems more at ease when they are at home, especially small children. In fact, they are usually excited to show me their room and their favorite toys. This allows me to connect with them much quicker and really capture their true personality.
More Options
You might think that shooting in-home will limit your options on the number of shots/backgrounds, but that is not the case! I actually find the opposite to be true. Sometimes, outdoor/park settings can be limiting because the light is only good in certain areas and at certain times. There can be random passersby that we need to work around. Shooting in-home, however, does not have those limitations. I love to utilize many different locations: everyone piled on the sofa, kids playing in their bedrooms, snack time in the kitchen, and of course my favorite, cuddles on mom & dad's bed. Bonus: the lighting indoors is usually very flattering and easy to work with. I love me some soft window light! And, of course, weather permitting, I do love to get outside in the backyard for a few shots.
Everyday Moments
In-home family photography lends itself to capturing organic, everyday moments. As a mom myself, I completely understand how fast it all goes by, and I have some real fears associated with forgetting all the little things (or being too busy to appreciate them in the first place!). These "forgettable moments" are the moments that I never want to forget. In-home family sessions provide so many unscripted moments that make beautiful photographs. You will be so happy that we captured them.
"But Denise, my home is too dark / not big enough / not perfectly decorated enough..."
Nonsense!! This is your HOME, your PEOPLE, your STORY. That's all the beauty we need. And if you think your house is too dark…do you have windows and a front door? Yes? Then we'll be fine. I'll find the light and make pretty pictures for you... promise!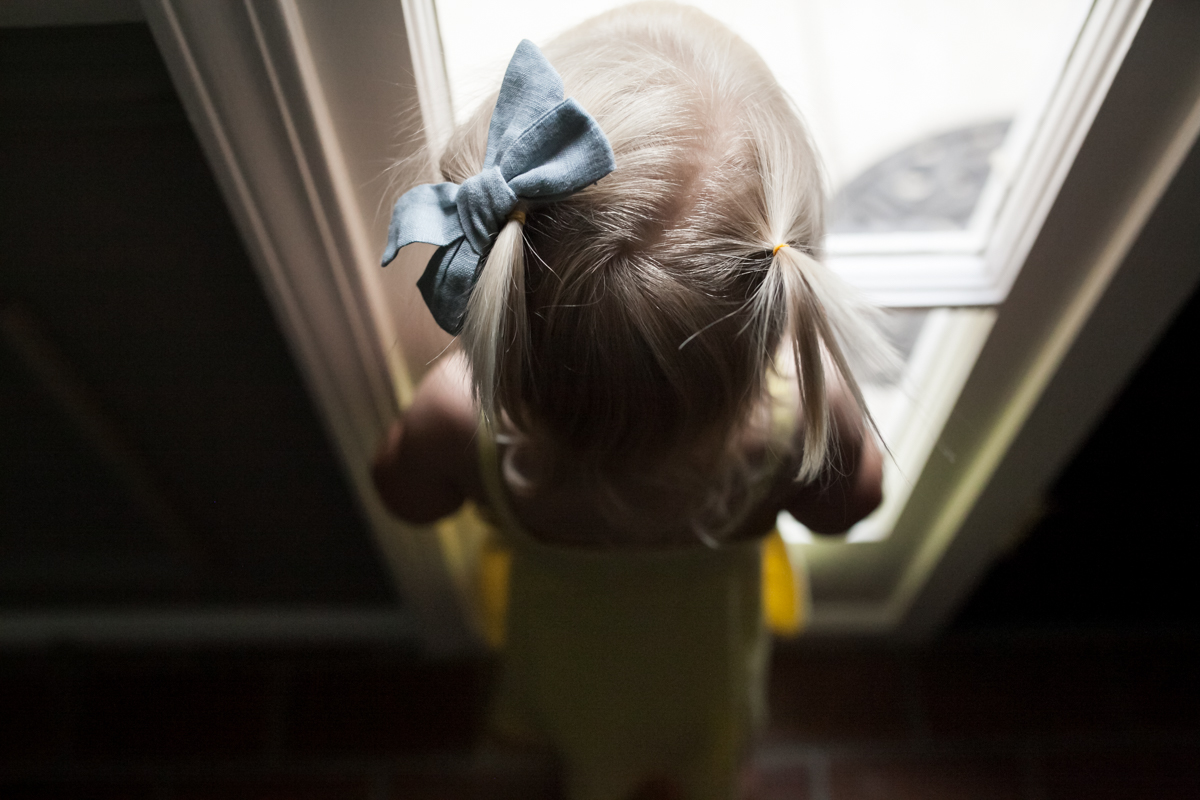 Now here's the really good part. I'll be offering $50 off your next in-home session scheduled November 2017 - March 2018. All you have to do is sign up to receive my newsletter to receive this awesome discount! (I only send the newsletter out once every couple/few months, so I promise I won't be spamming your inbox.) Click the button below to subscribe, and I hope to be seeing you this winter!
Denise Button is a child and family photographer located in Rochester, Michigan and serving the Metro Detroit area. She focuses on fun, lighthearted, candid moments and real connections.